Nidec Graessner

– The management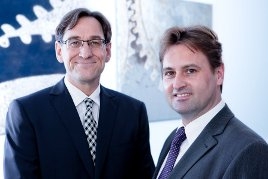 Managing directors:
Dipl.-Ing. Michael Stadler MBA (left)
Dipl.-Betriebswirt (FH) Thomas Merk (right)
Michael Stadler
– Has been associated for many years at Stadler Antriebstechnik with the field of "gear units," among others – guiding the company's fortunes since 2009.
Thomas Merk
– Since the year 2011 the business economist has complemented the management in the commercial sector.
---
Interview with Michael Stadler (published in May 2019 in the trade journal :K):

Positive takeover - MS-Graessner is part of the Japanese Nidec Group since last year. What this means and what the advantages of this new situation are, tells the old and new managing director. The interview was conducted by Michael Kleine.
Mr Stadler, the news of the takeover of MS-Graessner by Nidec came as a surprise to many. What led to it?
Nidec has the intention to grow in order to finally do something good for the customer with its robot gearboxes, coaxial planetary gearboxes and motors. And that's what we've always wanted with our angles gearboxes. But for up-and-coming areas such as robotics and automation the customer wants to purchase everything from a single source. This is why the two companies have come closer together in order to achieve greater success worldwide with their joint portfolio.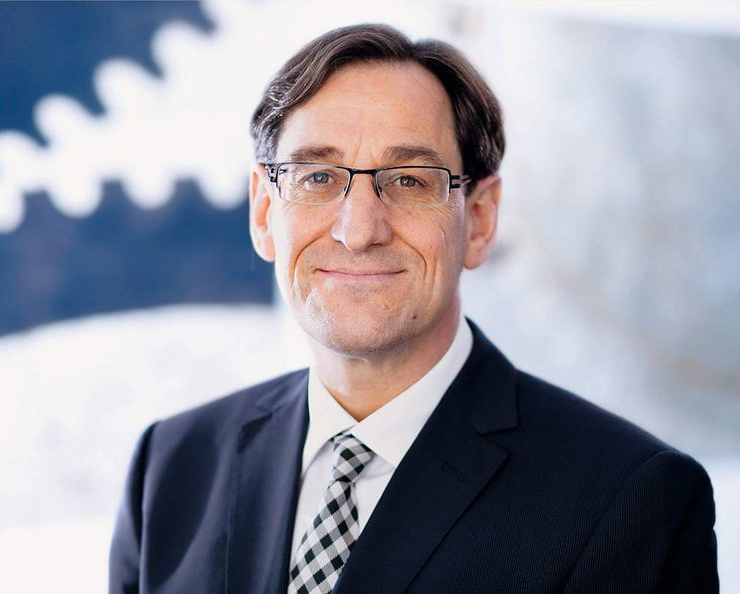 Is this a real takeover?
I like to call that a positive takeover. It always depends on a clear strategy behind it. And this strategy means: Nidec has taken over us, but we are contributing our share. And after three quarters of a year I would say that our mother knows what she has in us, because we have a lot of know-how and expertise in our field. Japan suits us with its precision, quality and high rule of law. Because of this clarity, the situation is quite simple.
Are there any changes in the structure?
Not really. The management remains as it is and all shares in the company have been sold, again for the sake of clarity. In my opinion, there are only winners. Everyone involved gets added know-how, after an eventful history calm returns to MS-Graessner and the financial matters are settled. In the end, it is the customer who wins because we can sell him entire systems. People, markets and even machines are in a safe environment with this new constellation and we can generate new things, that's the idea.

It is important for us that we have a stable environment in which all stakeholders can participate. Today I am still very optimistic, the signals are still very positive. Nidec takes the matter very seriously and has already invested a million euros here. Nothing has changed in management - we only get more products that we can offer our customers.
Recently, your colleagues from Control Techniques also migrated to the Nidec Group ...
This also makes sense, because Control Techniques develops servo drives that we can marry to our angular gearboxess. First, we can participate in the Nidec Group; second, the additional products give us new opportunities; and third, we find new markets in Asia or the USA.
How about overlapping product ranges?
They tend to be small. In fact, there are more opportunities. And if we look at a drive solution such as motor, pinion or gear rack, we can choose from the following the Nidec Group. One example is our "EvoGear" transmission series, which we are continuing to expand and supplement it, for example with a helical planetary gearhead from Nidec-Shimpo as final stage. The resulting combination is then much better in performance. Together we serve many business segments.

With our angular gear units, we are strong in automation and robotics. With the planetary gearbox of Nidec-Shimpo we are strong in automation and robotics. At the same time, Nidec offers a special shaft gear for Scara, Delta or jointed-arm robots. This enables us to serve almost all applications in robotics and automation. And this is a market that will grow extremely in the coming years.
Will products also be withdrawn from your production?
No. Nidec also has angular gearheads in its portfolio, but they are not as powerful as our high-ratio hypoid gearboxes. The automation market is in search of such high-tech solutions, but at the same time there are many applications where costs are more important and high quality is not so important. In this way, we can serve all sides.
Nidec Graessner was quick to focus on Industry 4.0, digitization and decentralization. Will this direction continue in the new constellation?
Yes, definitely. The takeover is also favourable for us, because in the new era the demand for servo drives will increase more and more and they will experience a boom. Here we can participate in more markets with our angular gear units and offer our customers planetary and robotic gear units. By combining the competencies on both sides, the distances become much shorter and we can act together as a system provider and save the user a lot of effort. This makes it much easier for us to acquire new customers.
What is the latest state of digitalisation for you? What do you think about?
Nidec-Shimpo has introduced the S-Cart, a self-propelled system that can drive from A to B digitally controlled. In Japan and China, various plants are already equipped and the S-Cart is being sold more and more there. Digitization and automation play an important role and we implement sensors in our drives. We don't manufacture them ourselves, but Control Techniques develops control systems, which means we are also well on our way in terms of control.
And which products are currently in the foreground?
First, of course, our EvoGear, an economical variant of the DynaGear. "EVO" because of "Efficient - Versatile - Optimized". We can drive single-stage ratios up to 15 : 1 and two-stage ratios with the Nidec-Shimpo-Planet as final stage 100 : 1 and 150 : 1 respectively. Production has been optimized and made more productive, we can mount even better than in the past, and we have also further optimized certain wheel sets. Overall, the EvoGear is a very good transmission and we expect it to increase our market share, especially in Asia and America.
In addition, we are developing cuboid gearboxes for portal robots, with many rack and pinion and angular gearboxes from us, as well as planetary gearboxes from Nidec-Shimpo. We are therefore also represented in the driving axes of robots, which are becoming smaller and smaller. We want to implement axis movements in service robots weighing up to 30 kilograms with our Flexwave, and in the range from 30 to 200 kilograms we will use our Coronex gear units. In this really new technology, we see a very high potential.
Will the development remain in-house?
Thanks to 60 years of experience with angle gearboxes, no one can do this better than we can. Nidec will not interfere. We have also visited the other plants of our new mother and we exchanged intensively with the local people. There are cooperations and we help each other. We regularly have Japanese colleagues here with us as liaisons in Dettenhausen. The know-how of the helical gearboxes complements each other, which we have experienced especially with the EvoGear. As a major highlight, we are now finally in the very large and lucrative planetary gearbox market, for which Graessner was not so well known before. And Nidec's products are really high-quality, very robust and stiff, they are highly translated and offer tight storage. This is really a good thing.
You say that your strategy for the next five years is perfectly clear. What does that mean in concrete terms?
The strategy is ultimately determined by the customer. But we need to know where their applications are going. And here, as already mentioned, we have a clear focus on automation and robotics. Here, artificial intelligence will give a further boost. In this very exciting new field, we see ourselves with our angular gears and decentralized servos as having a long-term advantage over torque motors.
All in all, I assess our starting position as positive: Efficient products are available, innovations are available, markets and customers also - in principle, the only thing we still have to do now is sell. In addition to the plant in Dettenhausen, we will also successively expand the capacities in our hall in Mittelstadt.
---