Torus
G

ear
The planar spiral gearbox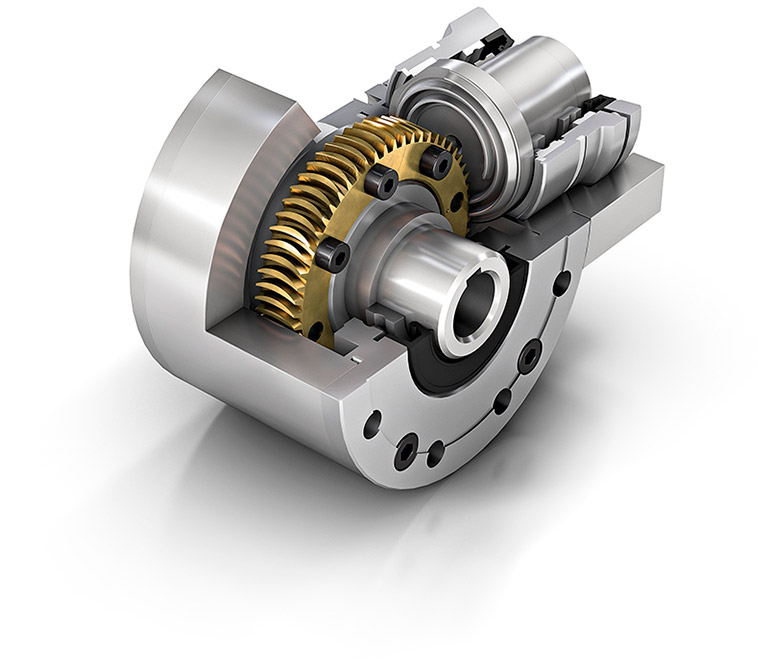 Highest possible quality and precision, limited weight, simple construction and minimal space requirement makes the TorusGear highly efficient.
With the TorusGear
a new and unique gearbox
was developed and patented. This new and unique gearbox has excellent characteristics compared to existing gearboxes.
One gear step is the Torus wheel with spiral shaped tooth and the curve wheel with the curved tooth shape. The contact surface and the load on the material can be substantially reduced with the novel gearing module.
The TorusGear is the first "Planar-Spiral Gear" which is technically mature to be used for industrial applications.
Characteristics
The technical superiority of the TorusGear compared to conventional gearboxes can be described as follows:

Torque
The load is spread over a large contact surface and meshes with several teeth.
Almost double the torque
can be applied, compared to conventional worm gearboxes of the same size! The compact design and the excellent efficiency make it possible to obtain
high gear ratios in only one step
.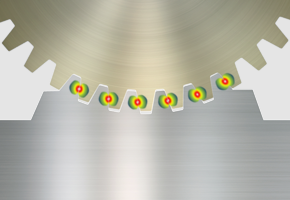 Load distribution Torus
G
ear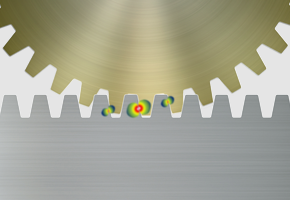 Load distribution evolvent

Efficiency
The efficiency remains, irrespective of the gear ratio, almost constant. This means that the TorusGear reaches at high
gear ratios, above 100:1, a substantial higher efficiency
, compared to the worm gear, where the efficiency factor reduces with increasing gear ratios.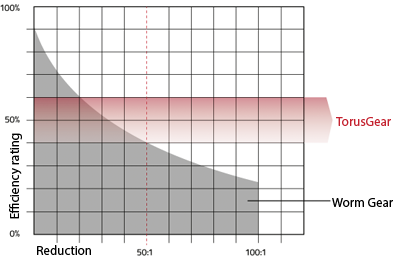 High Gear Ratios
With worm gearboxes, high ratios can only be realised with multiple gear stages or motors with low speeds (750 rpm or 1000 rpm), or a combination of the two options. Additional gearbox stages have a negative influence on the level of efficiency, and require more components, the immediate results of which are lower efficiency and higher costs. The same applies to the option of motors with lower speeds. Electric motors with speeds of 750 rpm or 1000 rpm are respectively approx. 250% and 160% heavier, and cost almost 99% and 33%, respectively, more than an electric motor with a speed of 1500 rpm. At an input speed of 750 rpm and a ratio of 200:1, a worm gearbox achieves the same output speed as a TorusGear with an input of 1500 rpm and a ratio of 400:1.

Dimensions
The TorusGear can be
down sized
where a higher torque is not needed.
Wight and space
of the gearbox can be reduced.

Accuracy
The unique design of the TorusGear
simplifies the adjustment or elimination of backlash
. A built in spring preload eliminates backlash for life time.

Quiet runningNoise emissions
can almost be removed by eliminating backlash
and optimizing the design of the tooth shape
. The teeth do not roll on each other, they slide.

High Operational Reliability
The low number of moving parts increases the operational reliability. Safety related functions can be maintained after a tooth break, as several teeth are meshing at the same time on the TorusGear.

Easy Assembly
The simple and very compact gear unit design consisting of only the torus wheel, the curve wheel and the housing allow an easy and short assembly process.
---